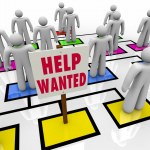 Photo from depositphotos.com
Like many people my job search has not been going as well as I liked. But yesterday I was blessed to meet with a recruiter at an employment agency. She gave me some honest feedback about the state of the job market and what I needed to do to be competitive. Here's what I learned.
1. The job market in the Washington, DC metropolitan area is good compared to the rest of the country but very competitive.
2. There's a sense of uncertainty among employers. They're concerned about national and local leadership and how that will affect the economy. So they're taking "baby steps" when it comes to increasing staff.
3. Potential employers Do Not like functional resumes or hybrid resumes. I've been using a chrono-functional resume. Maybe that's why I've had such a poor response.
4. Potential employers are being very picky when it comes to appearance. They want a polished, conservative look. I recently dyed my hair burgundy. I liked the way it looked I didn't think it was too far out but apparently it is in this market. I now have to dye my hair again to a more natural color.
I'm curious. What are other recruiters seeing? Your comments are welcome.